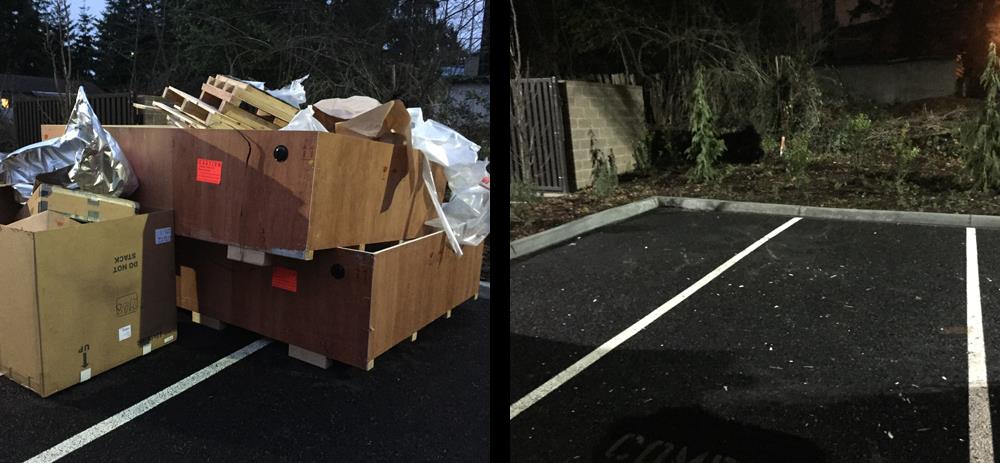 M&M Junk Removal Puyallup services all Greater Seattle and Pierce County.
Immediate Junk Removal Project in Puyallup
This is a job in Puyallup WA needed to be done as quickly as possible. A contractor on a very tight schedule had called us later in the day. He must been working overtime to get things done and signed off that evening. We have responded to that call in records time. There are many jobs like that we do every week and you may read about those jobs in many reviews we receive from our satisfied customers.

Steve, who is a contractor, had a pile of over-sized shipping box-crates. We spoke with him on the phone, understood the situation and made our way over to Puyallup downtown area. He had a drop-off container there but no one to help to put everything in it. He offered us just to throw the crates in side so we didn't have to haul them ourselves. We agreed and everything was said and done 45 minutes after he hanged up the phone.

Call M&M Junk Removal for your next cleanup project:
GET A FREE ESTIMATE (253) 886-7724
We service Puyallup and The Greater Seattle area. We are happy to help on any junk removal project, including, but not limited to:
immediate junk removal and trash cleanup
furniture hauling
hot tub removal
waste and yard debris disposal
and much, much more