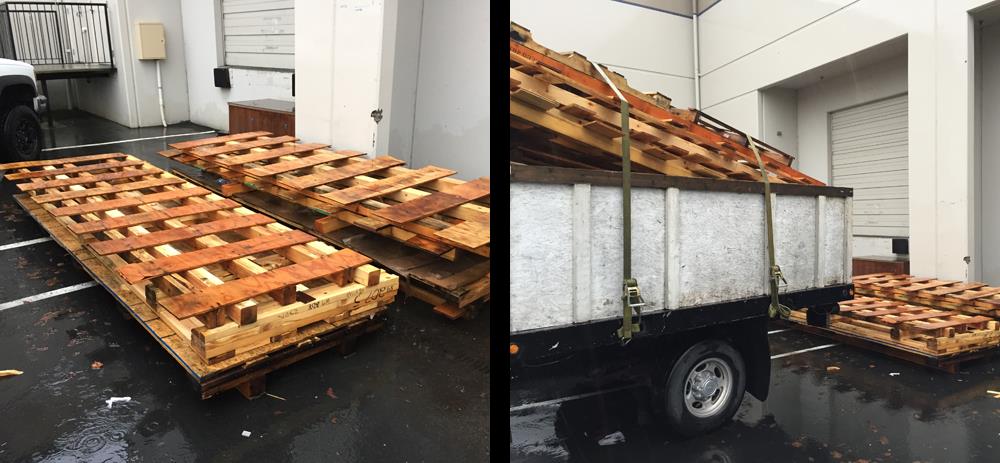 At M&M Junk Removal Kent we not only work with residents but also with companies and industrial sector.
Wood Pallet Removal in Kent
An Aircraft Company in Kent WA had called us for a single time pick up. A vender who picks up shipping pallets had not been able to come pick the crates up due to the heavy rain. They called us to come and remove everything for them. They said that they typed Junk Removal in the google and we the first who showed up.
We were able to come out the same day to Kent industrial area where they were located.
Our Process – Job Done Right Away
As we pull up, I see 14 foot long shopping pallets made out of 4×4 inch wood. The pallets were too long to fit in one load so we had to return the next morning to pick the remaining wood. At M&M Junk Removal we like to get the job done right away. Rain or shine even when some are not working we are there to assist your junk hauling needs.
Are you a business looking to get rid of unwanted material?
Or maybe you'd like junk removed from your home or property?
Call M&M Junk Removal for your next cleanup project:
GET A FREE ESTIMATE (253) 886-7724
M&M Junk Removal is your #1 choice in junk removal in Kent. But we provide service all the way from Bothell to Olympia. Give us any task, and we will find a way to get the job done for you. We are happy to help on any project desirable, including, but not limited to:
unwanted industrial junk
furniture and appliances hauling
hot tub removal
trash cleanup
waste and yard debris disposal
and much, much more
The Kent zip codes we remove junk in are 98030, 98031, 98032, 98035, 98042, 98064 and 98089. If you live in one of those area codes and have some unwanted furniture, need waste disposal, want your junk taken to the dump call us up we'll come pick up your rubbish.