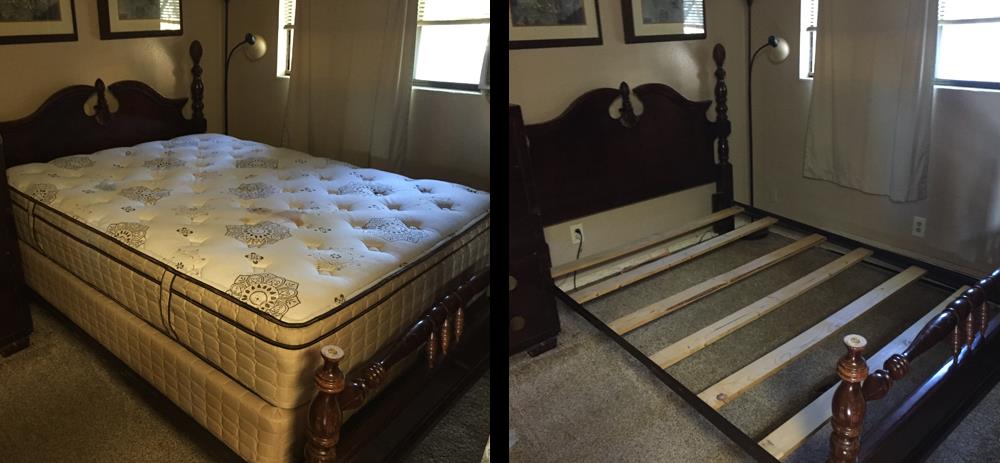 Federal Way is a home town of M&M Junk Removal. We began our operation in Federal Way, WA back in the end of 2007. Have done hundreds of junk removal Federal Way jobs – close to every neighborhood in town. We treat all customers like neighbors especially if they are in Federal Way.
Example of Mattress Removal in Federal Way
Like any other day we get a call. We have Rose on the phone and she has an urgent mattress and box spring removal request. She is on a very tight time frame to get this done.  Has delivered a new mattress and needs to free up space immediately. She could not do it on her own because her husband is disabled and she could not get it off the bed and out of the apartment on her own.
Rose called one other junk removal company before she got to us, she told us. They could not make it there for a pickup in time so she kept on calling other junk movers.
Our Removal Process
When we were on the phone we figured out a time-frame when we could stop by, take a look at it, give her a price and hopefully take the old mattress to the dump. I explained that we are getting charged by the weight at the dump and depending on how heavy it is, the price might very.

I called Rose before we headed out letting her know that we were about 15 min away. She was already home from the store and was waiting for us. When we pulled up I found her apartment to be on the first ground floor and the mattress was a straight way out the door. Since it was not labor intensive to get the mattress and box spring out the apartment, we agreed on a price that was good for both of us.
Fast and Affordable
When we were all done loading it in the truck she paid the bill and said: Not only you could make it here the same day and have this done right away, you also had it pick up for less than the other company said they would over the phone.
Time and time again we hear that we are less expensive than other guys around. So please go and review our feedback on google or yelp and be sure you are calling the right junk removal service.
Call M&M Junk Removal for your next cleanup project:
GET A FREE ESTIMATE (253) 886-7724
M&M Junk Removal is your local and affordable hauling service out of Federal Way, WA serving FW zip codes 98001, 98003, 98023, 98063 and 98093 and The Greater Seattle Area. Give us a call and we will come pick up your junk.
trash or garbage removal
shrubs or yard debris cleanup
old computers, monitors, TVs, microwaves, or other electronic equipment
unwanted furniture
hot tub removal
waste disposal