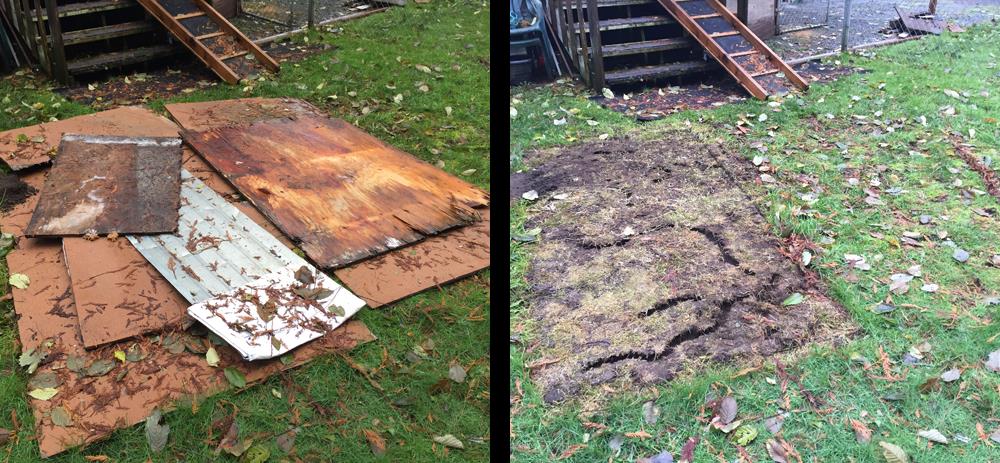 Welcome to M&M Junk Removal Auburn, your trusted partner in comprehensive junk removal solutions. Our dedicated team of professionals is equipped to handle any junk removal project, whether it's a residential cleanup or a commercial space overhaul.
We are driving around all parts of South King and Pierce counties, and it happens that we would get a call right on the way to our appointment.
Convenient Junk Removal Auburn
Just like that we got a call from Lorece. She lives in Auburn. When she called I asked what city is she in and she replied "I'm in Auburn, WA." Turned out she was right on our way to an appointment in Enumclaw, right on the Auburn Way S. I asked what it is she wants us to haul away for her and she said that it was a few plywood boards from an old deck they took apart.
Our Cleanup Process
When we arrived I called Lorece when she was at work. She walked me through everything over the phone. I saw plywood boards laying in the middle of the yard, in the rain and were soaking wet.
I explained that the dump is charging us by the weight and although there are just a few sheets or plywood they would add up to a lot of weight due to the rain and water and be expensive to dispose of. She understood but the price I gave her was just a bit more then she was expecting. After a conversation and her explaining her situation we came up with a price figure that would work for both of us. We loaded all the junk in the truck and went on our way.
No Need To Be On Site
With M&M Junk Removal you don't even have to be at a site when we do the job. We can do everything over the phone: over the phone ball park quote, over the phone walk though and over the phone payment. We try to make it as easy as possible for our customers when it comes to junk hauling.
Call us for your next cleanup project:
GET A FREE ESTIMATE (253) 886-7724
Auburn zip codes we remove junk in: 98001, 98002, 98003, 98023, 98047, 98063, 98071, 98092, 98093. Here at M&M Junk Removal we provide service all the way from Olympia to Bothell, we are happy to help on any project desirable, to name a few:
garbage removal
unwanted furniture
appliances, old electronics or office waste removal
demolition debris
yard waste, cut down trees, shrubs disposal
hot tub removal
and much more